New York and Vermont to Montreal
Please click here to jump to the Overview section with all tour details including pricing.
New York/Vermont/Montreal Bike Tour: Highlights
The New York and Vermont to Montreal bike tour has it all! Pedal from the lush Lakes Region of New York, cross Lake Champlain by ferry, climb Vermont's Green Mountains, descend back to an island for a stay in the middle of Lake Champlain, cross the border into the vibrant city of Montreal and finally one can return via train along Lake Champlain. Lizard Head Cycling's owner, John Humphries, attended college in Vermont and knows the Green Mountain state well. With mountains, islands and Montreal as the final destination, this is one of our most unique touring experiences that is not to be missed.
Pedal through small towns on roads and bike highways that see little traffic.
Ride Vermont's quiet road over the mountains (aka Gaps).  Climb up to six Gaps during three days of Vermont mountain cycling.
Experience Lake Champlain's islands while riding bridges and causeways into Canada.
Read why Montreal is considered a top biking city.
Meeting Location: The tour meets and ends in Albany & Saratoga Springs, New York.
NOTE #1: Clients wishing to arrive early can choose to meet the New York & Vermont to Montreal tour at the rejuvenating Roosevelt Mineral Baths of the Gideon Putnam Resort in Saratoga Springs, New York. These renowned springs healed injured soldiers during the Revolutionary and French/Indian Wars.
NOTE #2: Guests can stay at any hotel in Saratoga Springs.
To shuttle from Albany & the surrounding area to the meeting hotel, we recommend Saratoga Hybrid Cab.
New York/Vermont/Montreal Bike Tour: Dates
Potential tour dates are listed below and not all tour dates will run. Lock in your preferred tour date early as unopened tour dates will be closed. Please see the Spring/Autumn Tour Calendar and the Summer Tour Calendar for confirmed departures. Any unopened date can be a Custom Week (9 riders required). Please contact us via email or call 970.728.5891
To easily register for a particular tour, please click the Book Now! link after the tour date listed below. This will select the tour name and the appropriate date on the registration form.
Note: The tour minimum to make GO is 10 riders
2024 Tour Dates
Tour Status Notes: NO STATUS = Date Set, no riders have signed up. TOUR OPENED = Tour Opened, rider minimums not met. TOUR A GO! = Tour is Go, rider minimums met. SOLD OUT = Tour Full, rider maximums met.
New York/Vermont/Montreal Bike Tour: Overview
*** A Passport is Required to Enter Canada! ***
Tour Length: 7-Days / 6-Nights Lodging
Meeting Town: Albany, NY airport hotel. NOTE: On Day 1 guests can choose to be picked up at the Gideon Putnam Resort in Saratoga Springs, NY.
Ending Town: Albany, NY (Returning by train from Montreal on Day 7).  On this final day cyclists can also fly out of Albany or return via the van & trailer which drives back with bikes & luggage to Albany & meets the train.
Alternative Departure Day: If your schedule demands that you must return home early, one can depart Montreal by plane or train on the morning of Day 7. The Adirondack train route boards in Montreal and delivers riders back to the start in Albany, NY.  The train departs Montreal at 9:30am and arrives late afternoon.
Total Miles: 265 up to 400 over 6 days of riding. (Can I keep up on this tour?)
Ability Level: Intermediate (3)
to Advanced (3/4) 

A combination of quiet, car-free roads, easily accessible mileage options and plenty of climbing options (during the three days in Vermont) makes this tour well suited for upper intermediate to advanced cyclists.
Tour Minimum: 10 riders are needed for this tour to run.
Tour Cost: $3,590 per person with shared accommodations. Add $595 per person to this Tour Cost for a private room each night of the tour (6-Nights). Group discount of $200 per person for groups of 4 or more.
Please see our Tour Discounts Policy.
Early Bird 2024 Group Tour Discounts
For 6-Day tours take $225 off the tour cost and $50 off a bike rental. For 4-Day tours take $100 off the tour cost and $25 off a bike rental. Discount applies to new registrations only made before September 30, 2023. Please make sure to mention this offer when you register.
Discount applies to 2024 group tours only and are not stackable with other discounts or promotions.
Tour Includes: 7-Days guide service, 6-Nights lodging, all meals (except 1 dinner), return train ticket from Montreal, entrance fees, daily lunch en route, energy food, liquid refreshments, in-tour shuttles, and mechanical support. Alcoholic beverages, bike rental, and massage therapy, are additional.
Non-Riding Spouses & Partners on Tour: If a non-riding spouse or partner would like to join you on tour and they have their own transportation, they can stay in your room for the cost of the tour's single room supplement. Non-Riding spouses and partners can join a tour's meal plan of three meals a day for $85 per day.
Lodging Includes 6 Nights: (subject to change)
Road Bike Rentals
NOTE: The make, model, and specifications of rental bikes may differ from what is described below. Please contact us if you have any specific needs for a rental bike or have any questions about rental bikes.
Lizard Head Cycling Guides is proud to rent Scott Bikes. The Scott Addict 10 Disc was designed from the ground up with those longer days in mind. With geometry that is less focused on racing and more on enduring, the Addict 10 will be your go to when you're looking to put the miles in.
The Scott Addict 10 Disc features: Carbon Frame and Fork, Shimano Ultegra 2x11 Drivetrain, 34x32 Compact Gearing, 30mm Tires, and Hydraulic Disc Brakes. Approx. Weight: 16.89 lbs / 7.66 kg (without pedals)
☛ Learn more about our Rental Bikes and Equipment
Road E-Bike Rentals: Click Here for more information on our Road E-Bike Rentals including pricing. Please note that E-Bikes are not available for certain tours including those that involve camping. Please contact us for more information before registering for a tour. NOTE: E-Bikes are great, but our tours are designed to be ridden without motorized assistance. We offer "bumps" along the road so that everyone can stay together.
Tandems and Recumbents: Lizard Head Cycling Guides happily accommodates both tandem and recumbent bikes on our tours.
If you have any further questions, please read more on our Rental Bikes FAQ page. You can also email us at info@lizardheadcyclingguides.com or call us at 970.728.5891
Meals On Tour
Lizard Head Cycling Guides provides most meals on all tours (unless otherwise noted) including breakfast, lunch, and dinner. Guides will prepare a daily lunch en route for nearly every tour, both road and off-road, as well as provide nutritious snacks at periodic aid stations during the day.
Most of our road tours utilize local restaurants for all meals and occasionally guides may prepare a dinner or two during a tour. Due to the nature of being "off the grid", most of our off-road tours feature guide prepared meals for breakfast, lunch, and dinner. FUN NOTE: When guides prepare a meal in camp and the guests sit around and watch, this is called "Guide TV".
We also pride ourselves on being able to cater to specific dietary requests and needs, so rest assured that you will be able to get the nutrition that works best for you during your tour. Gluten Free, Dairy Free, Vegan, or a someone who loves it all – we will keep you well fed during the tour!
Lunches: Lizard Head Cycling Guides prepares healthy lunches to keep you going. We will serve you fresh organic fruits and veggies, salads, hummus, sandwich fixings, nuts, gourmet cheeses and, of course, plenty of salty/sweet snacks such as chips and cookies.
Dinners: On our road tours, Lizard Head Cycling sources our favorite restaurants in each town that we visit. Our guides focus on establishments that offer fresh and local ingredients and guests choose whatever they desire to eat off the menu including: appetizer, salad, entrée, and of course, dessert... yum!
Also, while on tour if a guest wants to dine early before the group and go to bed, this is fine. We understand that on some days sleep is the most important post-ride element.
Ability Level: Can I Ride This Tour?
Definition of Ability Levels
= Intermediate (2/3) Rides and/or takes spin classes 1 to 3 times a week for a total of 50 or more miles.

= Upper Intermediate (3) Rides and/or takes spin classes 2 to 4 times a week for a total of 75 or more miles.

= Advanced (3/4) Rides and/or takes spin classes 3 to 5 times a week for a total of 100 or more miles. Has ridden multi-day tours and done a century ride.

= Expert (4) Rides 4 or more times per week totaling 150 or more miles. Rides E.F.I. with regularity. Has done numerous multi-day tours, century rides and races.
How Fit do I Have to Be? If one month prior to the tour, you can ride 2 to 3 times a week equaling a total of 75 or more miles a week, you'll do just fine. We like to jokingly say that "one is ready for a Lizard Head Cycling Tour when they are finished with tour" and this is true! The only way to simulate a week long bike tour is to go on a week long tour.
Our average rider age is 55 years. These are bike tours, not races so we take our time to stop, take pictures and see the sights. We have all day to reach our destination and most riders take "bumps" at some points. We offer reduced mileage options for each day. Of course if someone wants to ride E.F.I. (Every Freaking Inch), we love to show them all the extra climbs, loops and hidden canyons that can be included!
Do the Bump! Daily mileage options allow cyclists of varying abilities to enjoy this tour. One of our favorite options is to give cyclists a "bump" via the support vehicle, or a 10 to 20 mile lift down the road representing an hour of pedal time. After the bump the rider is "off the front" and riding at his or her own pace without feeling they are being left behind the group. They'll then have time to linger and take in the spectacular scenery. All cyclists come together in time for lunch. Afterwards, cyclists can take another bump and/or continue riding.
Seamless Mileage Options: Lizard Head Cycling Guides designs multiple mileage options for each tour – something we're well known for in our business. This technique is similar to heliskiing in that one does not ski everything, they ski the best. 🙂
Slow or Fast? Many cyclists who sign up for our tours have worried themselves silly about not being able to keep up, but then they're surprised to find that all the worrying was about nothing. They do just fine! Slow and Fast only exist relative to other cyclists. Speed does not matter as long as one is moving on the bike. As long as one is moving, they are truly going fast enough.
If you have questions about your ability to ride this tour, please contact our office via email or call us at 970.728.5891 - we'll more than happy to guide you!
Please also see this blog post for more information.
New York/Vermont/Montreal Bike Tour: Itinerary*
*Tour itineraries are subject to change and modification based on the group, available accommodations, road construction, road closures, and other unforeseen circumstances including weather, wildfires, flooding, hurricanes, landslides and/or other acts of nature. Also, the distances and elevation profiles shown below may not reflect the actual distances and elevations while on tour as these are provided here to give an idea as to the anticipated mileage and terrain. Please view this itinerary, the distances, and elevation profiles as a general outline as to what to expect while on this tour.
Day 1: Lake George, NY to Middlebury, VT
40 miles or full-pull (EFI) of 57 miles
The cycling begins along seldom traveled roads following the west banks of Lake George, nicknamed Queen of the American Lakes, and Lake Champlain.  Water, rivers and lakes abound in this region.  Vermont's Green Mountains are visible to the east and the Adirondack Mountains rise to the northwest.  What a beautiful start to a bike tour!
Day 1 offers one fresh 2-mile climb (650-feet) up and over a ridge to reach the shores of Lake George.
The route passes through the Revolutionary war town of Ticonderoga, a native Mohawk word meaning, "between the two waters".  The two waters are the north end of Lake George and south end of Lake Champlain.
In Ticonderoga, NY cyclists board a ferry boat across Lake Champlain to reach the shores of Vermont.  Upon landing in Vermont cyclists spin northeast past Vermont's bucolic farms and fields to Middlebury, VT for a two night's stay at the Middlebury Inn.
DAY 1: Lake George, NY to Middlebury, VT: 57 Miles

Elevation Gain: 3,450 feet/ (Elevation Loss: 3,430 feet)
Day 2: Gap Riding Options!
Options of 40-miles, 73-miles or up to 107-mile (E.F.I.)

Day 2: Descending Roxbury Gap on new pavement
Day 2's route delves into Vermont's Green Mountains with a defining ride that ascends the range two, three or up to four times!  The vistas are grand as the route slices through the heart of the Green Mountain range exploring quaint and picturesque towns that offer restaurants, lodging and classic country stores.  Support is offered for the various options cyclists choose.
The gaps are generally gentle ascents until their last mile or two when the road builders punch the road steeply up and offer the gaps. As a result, the gaps in general are generally intermediate level riding until the final mile or two before the summit.
See descriptions of three gap options below.
Day 2's Two-Gap-Loop that pedals first roll-outs past beautiful Lake Dunmore before engaging the first Gap of the tour, Brandon Gap (5 miles & about 1,500-feet).  After descending Brandon cyclists turn enjoy an aid station in Rochester, Vermont.  Following refreshments cyclists head up and over Middlebury Gap and back to the Middlebury Inn.
Day 2's Three-Gap-Option over Brandon, Rochester and Roxbury Gaps serving up 6,900-feet of climbing.  The Three-Gap-Tour diverts from the Two-Gap-Loop at the aid station in Rochester.  From Rochester cyclists climb the Rochester Gap and are thrilled with a newly paved (summer 2012) 6-mile swooping descent!  Lunch is enjoyed in the small town of Randolph.  The final climb of the Three-Gap-Option is Roxbury Gap which presents cyclists with a ride-able, but challenging mile of packed dirt at its summit.  After the descent of Roxbury Gap cyclists meet the shuttle at the Warren Country Store for ice cream, soda pop and/or a cold Vermont micro-brew.  To end the Three-Gap-Option cyclists shuttle over Middlebury Gap afetr ice-cream at the Warren Store for a second night's lodging at 19th-century era Middlebury Inn.
The biggest challenge of Lizard Head Cycling's NY & Vermont to Montreal Bike Tour is Day 2's  Four-Gap-Loop back to Middlebury.   The Four-Gap-Loop is a 107-mile monster with 9,200-feet of climbing.  It follows the same route as the Three-Gap-Tour, but continues through Warren to climb up and over Middlebury Gap to end the day!
DAY 2: Two-Gap Option: Middlebury & Brandon Gaps Loop to Middlebury: 57 Miles

Elevation Gain: 4,650 feet/ (Elevation Loss: 4,653 feet)
DAY 2's Three-Gap-Option: to Warren, VT: 73 Miles

Elevation Gain: 7,398 feet/ (Elevation Loss: 6,862 feet)
DAY 2:  Four-Gap-Option: Loop to Middlebury: 107 Miles

Elevation Gain: 9,573 feet/ (Elevation Loss: 9,573 feet)
Description of climbing Roxbury Gap : The 10-mile (1,500-foot ascent) of Roxbury Gap begins following a shady brook onto Roxbury Mtn Rd.  Once on Roxbury Road the climbing starts quickly and is interspersed with dirt sections.  The dirt sections of the gap are meticulously groomed, so there is usually no problem for skinny 23 mm tires.  There will be some nice glimpses across the Rt 100 valley, so be sure to look over your left shoulder once in while on the climb.  The summit of Roxbury Gap is dirt, as are are short portions of the descent.
Day 3: Middlebury to Stowe, VT
51-miles or 66-miles E.F.I. Option
Ride between the iconic Vermont towns of Middlebury and Stowe and enjoy an end of day visit to the Ben and Jerry's Factory Creamery!
Day 3's  shorter Two-Gap ride begins with a shuttle to the top of Middlebury Gap and then follows the Three-Gap Route.
Day 3's Three-Gap Option is a 66-Mile ride thar begins with the ascent of the Middlebury Gap. From the top cyclists descend 7-miles before turning north towards Warren, Vermont.  Upon reaching Warren cyclists climb Lincoln Gap, the steepest Gap in the state, with one full mile above 20% (yes 20%).  This mile is the "Steepest Paved Mile" in North America and a sight to see. Previous cyclists have said it, "was a great walk" under the interlacing tree canopy.  Regardless if ridden or partially walked, the Lincoln Gap is a highlight of the tour. Following Lincoln Gap cyclists enjoy a well deserved lunch before engaging the formidable Appalachian Gap (App-Gap).  The descent of the App-Gap brings cyclists through the Mad River Valley to Waitsfield, VT.  From Waitsfield cyclists are shuttled 20-miles to the Ben and Jerry's Factory Creamery.
From Ben and Jerry's cyclists can choose to shuttle to the finish or choose to work off the ice cream with a 8-miles into Stowe, Vermont
Although only 66-miles in length the 66-Mile Three-Gap option climbs nearly 7,000-feet.
DAY 3:  Middlebury to Waitsfield: 66 mile or 51-mile options (via Middlebury, Lincoln & "App" Gaps)
Elevation Gain: 6,921 feet/ (Elevation Loss: 6,620 feet)
A true alpine gem, the Trapp Family Lodge will be our host for the third evening. From the von Trapp family's Austrian roots, the mountain retreat echoes European style and Austrian architecture situated on 2,500 acres in Stowe, Vermont. Tradition meets luxury at the Trapp Family Lodge where, during spring months, maple sugaring is alive and well. The lodge produces maple syrup from its 900-plus maple trees and approximately 1,200 taps—"the true sweetness of Vermont." A 20-person outdoor hot tub bordered in heated slate is sure too soothe sore muscles, and only a stroll from the 96-room historic alpine lodge. And if the ride here isn't enough, there are miles of mountain bike single- and double-track trails on property to relieve those muscles with a different style of riding.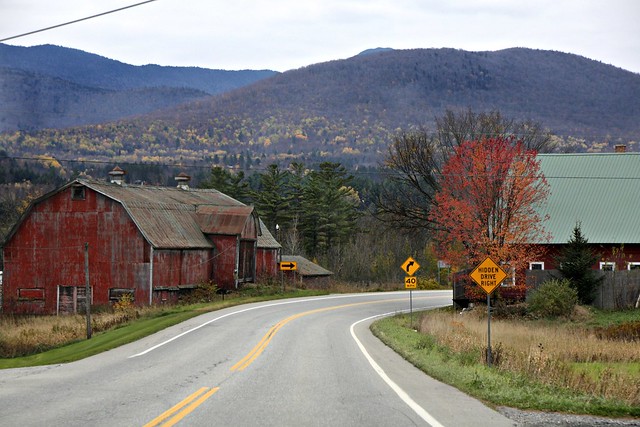 Description of Day 3's Appalachian Gap Climb:
The Appalachian Gap is a lovely Vermont climb. Both Lizard Head Cycling's tour and the Green Mountain Bike Stage Race climbs the "App-Gap" from the west side. The last kilometer or so is about 15% grade.  The App-Gap begins gradually enough as the first bump is often referred to as Baby-App.  After the Baby-Gap a 100-metre descent follows, but don't be fooled because once you start going up again, the switchbacks get tighter while the grade stays steep.  The view from the top of the App-Gap is perhaps the best of all the Gaps.  A cliff overlook gives you views of the road below, the Lake Champlain Valley and the Adirondack mountains (Let's hope for a clear day).
Enjoy the descent.  There are also a couple of surprise switchbacks that can catch a cyclist carrying too much speed.  Approaching Waitsfield, there are several options for food and water at the junction for Route 100.
Day 4: Stowe to North Hero Island, VT
54-Miles
On Day 4 ride from the high-mountains of Vermont down to the wide-waters of Lake Champlain while descedning 4,700-feet!
The stage begins with a climb of Vermont's Smuggler's Notch past the Stowe and Smuggler's Notch ski areas.  On this final climb of the tour the road engineers did not spend time or money blowing up the house-sized boulders, they simply built the road to wind around them.  As a result, the climb of Smuggler's Notch must be seen to be believed.
At the summit of Smuggler's Notch cyclists can survey all of northern Vermont and Lake Champlain.  Before descending cyclists may take note of riding across Vermont's Long Trail (Vermont's Continental Divide) for the sixth time in three days.
The long descent of Smuggler's Notch delivers cyclists to Pleasant Valley, an appropriately named valley of immense beauty.  From Pleasant Valley cyclists ride new pavement (summer 2012) past the iconic farms and fields that comprise northern Vermont.  Cyclists then join the Roosevelt Highway to ride from island to island out into the middle of Lake Champlain.
Tonight's island lodging surrounded by Lake Champlain is on North Hero Island. Upon arrival cyclists are encouraged to find a large Adirondack Chair, their favorite beverage and simply take in the view.
DAY 4: Stowe to North Hero Island: 59 Miles

Elevation Gain: 3,971 feet/ (Elevation Loss: 4,607 feet
Day 5: North Hero Island, VT to Montreal, QC Canada!
50-Miles on the Verte Route bike road

Brush up on your French as today's we ride along northern shores of Lake Champlain to Quebec along the Richelieu River to Montreal.  Remember your passport as the final stretch into Montreal is not to be missed.
Nearing Montreal, the route follows the Chambly Canal, a national historical site in Canada known for it's commercial trade with the United States in the mid 1800s.  The route is now used for recreating and connects the St. Lawrence River, Lake Champlain and the Hudson Rivers.  Our path joins a well established bike path that meanders over the St. Lawrence River and for the first time on this tour, into the hustle and bustle of a big city.
Tonight's accommodations at the Hotel Nelligan combine all the character and history of an authentic French country inn with the services and space of a modern boutique hotel.

Elevation Gain 807 feet/ (Elevation Loss: 878 feet)
Day 6: Tour de Montreal, QC
35-mile or 15-mile Options
Today is a day to discover Montreal on foot or bike, exploring the markets, museums and culture of this vibrant city.  If true recovery is on the agenda, head over to the spa next to the hotel or relax with a book on the rooftop terrace overlooking the St. Lawrence River.
But if getting back in the saddle calls, Montreal hosts an urban cycling treat. Tour de Montreal will take you to some of the best vantage points in the city, first from its namesake landmark, Mont Royal, a triple peaked hill. We'll then descend down into the Victorian neighborhoods of Westmount and St. Henri, and the Lachine Canal, the birthplace of industry in Canada. Montreal is the second largest primarily French-speaking city in the world, so brush up on your French before visiting the Atwater's Farmers Market en route to the St-Lawrence River, and St. Helen's and Notre Dame islands, home to parks, festivals and the Formula-1 Racetrack. We'll tour back via the Jacques Cartier Bridge, one of the most spectacular views of Montreal.
If your schedule demands that you must return home on Day 6, one can depart Montreal by plane or train. The Adirondack train route boards in Montreal and delivers riders back to the start in Albany, NY.  The train departs Montreal at 9:30am and arrives late afternoon.
Day 7: Depart Montreal via Adirondack Amtrak Route
Today's travel will take us southbound down memory lane via the Adirondack train route back to New York.  The train departs at 9:30am and arrives back in Albany, NY in the afternoon.  Depending one's destination, the route runs all the way to New York City.  A shuttle will be provided to the train station for departure.
Previous cyclists have chosen to extend their stay in Montreal by a day or two.  If additional sightseeing is on your agenda, rent a car and head up the St. Lawrence river to Quebec City, the only fortified city that remains in North America.
New York/Vermont/Montreal Bike Tour: Logistics & FAQs
Bike Rental NY to Montreal
Lizard Head Cycling rents SCOTT brand bicycles.
Bike Shipping
Lizard Head Cycling recommends shipping with BikeFlights.com. Bikes can be shipped either to our partner bike shop in each meeting town for professional assembly or directly to the meeting hotel for self-assembly. Bike boxes can generally be left at the meeting hotel during the tour. Bikes shipped across the continental US should be shipped 8 days prior to your tour.
Meals on the New York to Montreal Tour
Most meals (aside from two) from lunch on the tour's first day through breakfast on departure day are included.  The exceptions are that guests are own their own for dinner on the layover day in Middlebury and breakfast/lunch on the layover day in Montreal.  In total 5 dinners, 6 breakfasts and 6 lunches are included.
Breakfasts and dinners are in restaurants where clients either order off the menu or choose from a buffet.  Fresh lunches that include salads, local fruit, vegetables and meats are served in roadside parks by the Lizard Head Cycling Guides.  Any dietary preferences or allergies should be noted on the registration form.  Each of Lizard Head Cycling's lunches contains gluten free options.
If on any given night a guest is tired or not feeling particularly social, they can choose to eat early and retire.  Lizard Head Cycling enjoys hosting its guests for meals each evening, but understands some of us may just need to lie down after a day in the saddle.  A meal should not feel like marathon after a big day on the bike.
Ride Difficulty
The NY to Montreal Tour is designed for intermediate to advanced cyclists.  There is rolling terrain and climbing options that allow cyclists to customize their tour experience.  The tour is similar to riding Ride the Rockies, The Bike Tour of Colorado, Cycle Oregon or RAGBRAI.
Tour Support
A 15-passenger van and trailer that carries luggage, food and equipment supports Lizard Head Cycling's tours.  Cyclists keep a day bag that is accessible within the support vehicle.
The vehicle will sag and then pass riders to set up aid stations every 15 to 25 miles. This allows cyclists to linger at the back and then take a ten-mile, fifteen-mile or whatever mile "bump" forward to catch-up or get ahead of the group.  Energy food, drink mixes, and fresh fruit are available throughout each stage.
It is not uncommon for cyclists on Lizard Head Cycling's tours to ride their first century with us.  Many are surprised by their ability to pedal majority of miles offered.  We have all day to reach the destination.  If you have any questions about your ability to ride with us, please contact us today (970.728.5891 or Info@LizardHeadCyclingGuides.com).
The Daily Schedule
Cyclists ride their own pace.  Lizard Head Cycling does its best to support riders in their varying desires and efforts.  Cyclists can either use our tours to simply support their tour experience or to engage in a guided experience along the route.
Q-sheets with directions, profiles and locations of aid stations are given out for each stage.
General Tour & Cancellation Policies
Please take a moment to familiarize yourself with all of our tour and cancellation policies, which can be found by clicking here.
Travel Insurance
If you have not already, now would be a great time to consider adding travel insurance to your tour. You are welcome to use any travel insurance company you would like. We recommend Generali/Trip Mate.
Generally, if contracting COVID causes clients to cancel or interrupt their tour, trip insurance companies would treat it as any other illness as long as it is contracted after the insurance was purchased. Please check your individual plan documentation for details. Please note that quarantine is usually only covered if clients are actually sick with COVID. If a state requires quarantine upon arrival because of standardized state law, coverage is generally not covered. Again, check your individual plan documentation for details.
American Guests - use this link: http://www.generalitravelinsurance.com/get-a-quote.html?partner=LIZA0855
The Premium Plan is the only plan which offers Pre-Existing coverage so long as the plan is purchased prior to Final Payment.
The Premium Plan is the only plan that offers an optional Cancel For Any Reason - the policy must be purchased within 24 hours of initial trip deposit, the full trip cost must be insured, and if they cancel for Any Reason, it must be 48 hours prior to departure, and the reimbursement for an Any Reason claim is 60% of pre-paid, insured, non-refundable trip cost.
Customer Service can be reached at 1-800-874-2442 for coverage questions and policy modifications or to purchase by phone. Agency Code: LIZA0855
Canadian Guests - use this link: https://tripmate.catravelins.ca/?utm_source=lizardhead